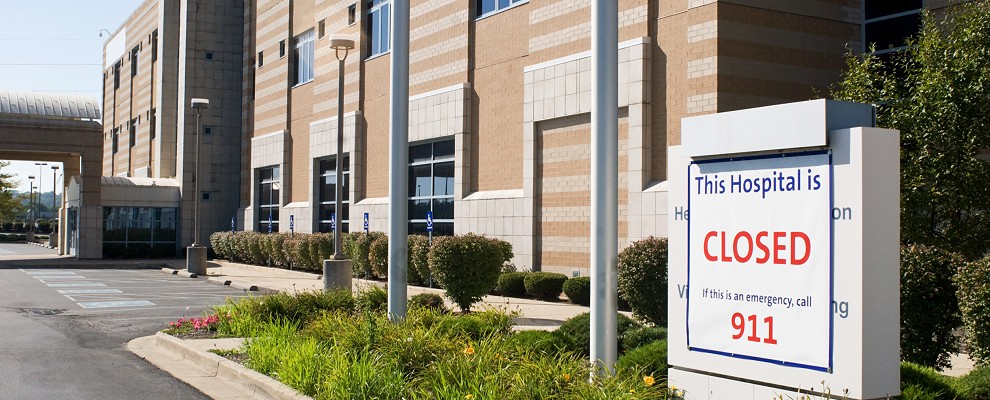 Saving Rural Hospitals – An Important Priority for Our Most Vulnerable Populations
Over the past 10 years, 120 rural hospitals have been forced into closure, according to the Chartis Center for Rural Health. Those numbers were current as of January 1, 2020. So far this year, another 14 facilities have shut down, and it's likely we'll see more on the way as the COVID-19 pandemic continues to challenge economic sustainability. Earlier this year, experts said at least 1 in 4 rural hospitals were at high risk for closure, even as the pandemic was just getting started.
This is an alarming crisis for a number of reasons, including the fact that some of our most vulnerable populations are disproportionately affected by rural hospital closures. The resulting lack of access to quality care is a literal life and death scenario. One study found that death rates in nearby communities increase nearly six percent after a rural hospital closes. The impact of a pandemic isn't reflected in these stats.
Rural hospital closures are even more concerning when you consider that primary care and specialty care are also scare resources. Patient-to-primary care ratios in rural areas are far lower than urban areas, according to the National Rural Health Association. Given the current environment, this gap will only widen. Additionally, a report from the March of Dimes estimated that more than 15 million women lived in areas that were either considered a maternity care desert or offered limited options for maternity support.
How can we save our rural hospitals? And what can rural hospitals do to help save themselves? Here are a few thoughts on solutions as we address this crisis moving forward.
Value-based care design
CMS recently announced a new payment model that aims to create more stability for rural hospitals through the use of value-based reimbursement. The pandemic has effectively demonstrated why the transition from fee-for-service to value-based care is so necessary, particularly for rural hospitals. The value-based care movement holds much promise for rural providers, ranging from more predictable budgets to increases in quality of care for the communities they serve.
Stakeholder alignment
In order to fully capitalize on value-based care opportunities, there must be effective communication and collaboration between stakeholders. Payors and rural providers must shift their focus to a more holistic approach while aligning goals and incentives. Patients are important to this equation as well. Health education and consistent engagement are driving factors toward better outcomes. This is particularly true among rural populations With little access to face-to-face care, patients often turn to Dr. Google for answers, unless their providers and payors are aligned and delivering trusted information in ways that effectively reach them.
Federal aid
Some experts point to the need for increased federal aid to help keep rural hospitals afloat. As an example, researchers in California have found that many of state's rural hospitals have endured additional hardships during the pandemic because they lacked adequate federal assistance. A recent study by UC Berkeley's Petris Center pointed out that the CARES Act provided more significant financial support to larger hospitals at the expense of rural hospitals. Moving forward, they suggested re-evaluating how the federal government approaches distribution of aid and for specific considerations to be made with respect to rural hospitals.
Medicaid expansion
Medicaid expansion is another way to create additional revenue. Rural areas are more likely to have a concentration of families who are uninsured and using emergency departments as their means of accessing the healthcare system. This creates additional financial pressure for rural hospitals. According to a study released earlier this year by the Chartis Center for Rural Health, being located in a state that hasn't expanded Medicaid increases the likelihood of financial distress for a rural hospital.
Adoption of digital health
During the pandemic, more rural hospitals have increased adoption of key technologies including EHR platforms and telehealth solutions. Moving forward, the smart use of digital tools and virtual care support will be key. Among the patient engagement tools to be considered are those that enable remote monitoring, provide focused education and support for chronic conditions and more efficiently connect individuals to community and system resources for SDOH needs.
Leaning on the right digital health solutions will allow rural hospitals to perform better in a value-based model and more deeply engage with patients across their communities, even when in-person interactions are limited. If done properly, rural hospitals can make key specialists more accessible to their population, improve overall care for patients and help keep healthcare services, and the fees that come along with them, in the local community.
In our experience at Wildflower, when you effectively empower mom as the Chief Health Officer of the Home with the right digital and virtual support, you drive engagement with the entire family and create opportunities for long-term patient loyalty in the process. The value of a rural hospital extending its digital reach and creating more informed and engagement patients can't be overstated. We see the impacts on patient outcomes and satisfaction every day.
The time is now
Regardless of the specific tactics, the need to save, support and solidify rural care options is critical work for the United States. Approximately 1/5 of our country's population, or close to 60 million people, live in rural areas. A 2019 study projected that nearly 80 percent of these residents are medically underserved by the healthcare system. Healthcare, or medical, deserts are only expanding as closures continue in 2020. Now is the time for the industry to rally around rural providers to ensure reliable care access for all.